Every year the World Science Fiction Society awards the Hugo award to outstanding works of Science fiction and Fantasy. The past several years have seen a boom of incredible new fiction in these genres, and last year was no different, featuring some standout work from both new and established authors. Here are the 2021 Hugo Award nominees for Best Novel, Best Series, Best YA Novel, and Best New Writer. Go here for a full list of awards and finalists. Award winners will be announced in December, so get reading!
Nominees for Best Novel
Black Sun by Rebecca Roanhorse
"From the New York Times bestselling author of Star Wars: Resistance Reborn comes the first book in the Between Earth and Sky trilogy, inspired by the civilizations of the Pre-Columbian Americas and woven into a tale of celestial prophecies, political intrigue, and forbidden magic. A god will return when the earth and sky converge under the black sun In the holy city of Tova. The winter solstice is usually a time for celebration and renewal, but this year it coincides with a solar eclipse, a rare celestial event proscribed by the Sun Priest as an unbalancing of the world. Meanwhile, a ship launches from a distant city bound for Tova and set to arrive on the solstice. The captain of the ship, Xiala, is a disgraced Teek whose song can calm the waters around her as easily as it can warp a man's mind. Her ship carries one passenger. Described as harmless, the passenger, Serapio, is a young man, blind, scarred, and cloaked in destiny. As Xiala well knows, when a man is described as harmless, he usually ends up being a villain. Crafted with unforgettable characters, Rebecca Roanhorse has created an epic adventure exploring the decadence of power amidst the weight of history and the struggle of individuals swimming against the confines of society and their broken pasts in the most original series debut of the decade"
The City We Became by N. K. Jemisin
Publishers Weekly Review: "The staggering contemporary fantasy that launches three-time Hugo Award-winner Jemisin's new trilogy leads readers into the beating heart of New York City for a stunning tale of a world out of balance. After hundreds of years of gestation, New York City is awakening to sentience, but "postpartum complications" threaten to destroy it. An alien, amorphous force, personified by the Woman in White, launches an attack on New York. Five people–one for each of the city's five boroughs–are called to become avatars dedicated to protecting the city. If they can combine their powers, they'll be able to awaken the avatar of the city as a whole and defeat the Woman in White, but first they'll have to find each other. While the Woman in White works to undermine them, the five avatars, whose personalities delightfully mirror the character of their respective boroughs (the Bronx is "creative with an attitude," Manhattan is "smart, charming, well-dressed, and cold enough to strangle you in an alley if we still had alleys"), learn the extent of their new powers. Jemisin's earthy, vibrant New York is mirrored in her dynamic, multicultural cast. Blending the concept of the multiverse with New York City arcana, this novel works as both a wry adventure and an incisive look at a changing city. Readers will be thrilled. "
Harrow The Ninth by Tamsyn Muir
Booklist Review: "This mind-bending sequel focuses on Harrow, the leader and last child of the Ninth House, who became a Lyctor at great cost in Gideon the Ninth (2019). But the course of Lyctorhood does not run smoothly for Harrow, who often hallucinates and remembers the events of Gideon much differently than the reader will; also, she may be haunted. Meanwhile, learning to use her new, almost unlimited necromantic power proves difficult given her mental instability, the unwillingness of her near-immortal tutors to impart their wisdom, and the imminent destruction of the Empire by vengeful, ghostly forces. Secreted on an isolated space station waiting for their doom to arrive, Harrow's frenemy and fellow new Lyctor Ianthe offers precious little in the way of support, while the Emperor cuts a disturbingly paternal figure. Muir presents a series of enigmas and revels in gory detail before bringing everything to a riveting, no-holds-barred conclusion that will leave readers both satisfied and gnashing their teeth for the finale. Fans of a blend of horror, mystery, dark humor, and the uncanny will want to start with the first Ninth House book, then devour this one."
Network Effect by Martha Wells
"Murderbot returns in its highly-anticipated, first, full-length standalone novel, Network Effect. You know that feeling when you're at work, and you've had enough of people, and then the boss walks in with yet another job that needs to be done right this second or the world will end, but all you want to do is go home and binge your favorite shows? And you're a sentient murder machine programmed for destruction? Congratulations, you're Murderbot. Come for the pew-pew space battles, stay for the most relatable A.I. you'll read this century. I'm usually alone in my head, and that's where 90 plus percent of my problems are. When Murderbot's human associates (not friends, never friends) are captured and another not-friend from its past requires urgent assistance, Murderbot must choose between inertia and drastic action. Drastic action it is, then"
Piranesi by Susanna Clarke
"From the New York Times bestselling author of Jonathan Strange & Mr Norrell, an intoxicating, hypnotic new novel set in a dreamlike alternative reality. Piranesi's house is no ordinary building: its rooms are infinite, its corridors endless, its walls are lined with thousands upon thousands of statues, each one different from all the others. Within the labyrinth of halls an ocean is imprisoned; waves thunder up staircases, rooms are flooded in an instant. But Piranesi is not afraid; he understands the tides as he understands the pattern of the labyrinth itself. He lives to explore the house. There is one other person in the house-a man called The Other, who visits Piranesi twice a week and asks for help with research into A Great and Secret Knowledge. But as Piranesi explores, evidence emerges of another person, and a terrible truth begins to unravel, revealing a world beyond the one Piranesi has always known. For readers of Neil Gaiman's The Ocean at the End of the Lane and fans of Madeline Miller's Circe, Piranesi introduces an astonishing new world, an infinite labyrinth, full of startling images and surreal beauty, haunted by the tides and the clouds"
The Relentless Moon by Mary Robinette Kowal
Booklist Review: "Sabotage threatens to shut down the Artemis lunar colony in the third installation in Kowal's award-winning Lady Astronaut series (after The Fated Sky, 2018). The Relentless Moon follows Nicole Wargin, one of the original Lady Astronauts and wife to the governor of Kansas. It's 1963, eleven years since the meteor strike that decimated the east coast of the United States. The national capital is moved to Kansas City, Missouri, and Nicole is finding that politics and space don't mix. Many think that too many valuable resources are being allocated to the lunar mission and not enough to helping those affected by the meteorite. When it's discovered that the International Aerospace Coalition may have been infiltrated by a terrorist group, Nicole is sent to the moon to find the culprit. But will she discover the truth before it's too late? Focusing on the politics and daily living of space, The Relentless Moon takes a few chapters before it really blasts off. Once it does, readers will want to buckle up for a ride, but should be aware of Wargin's frankly described fight with anorexia."
Nominees for Best Series
The Daevabad Trilogy by S. A. Chakraborty
First Book: The City of Brass
"Step into The City of Brass, the spellbinding debut from S. A. Chakraborty–an imaginative alchemy of The Golem and the Jinni, The Grace of Kings, and Uprooted, in which the future of a magical Middle Eastern kingdom rests in the hands of a clever and defiant young con artist with miraculous healing gifts. Nahri has never believed in magic. Certainly, she has power; on the streets of eighteenth-century Cairo, she's a con woman of unsurpassed talent. But she knows better than anyone that the trade she uses to get by–palm readings, zars, healings–are all tricks, sleights of hand, learned skills; a means to the delightful end of swindling Ottoman nobles and a reliable way to survive. But when Nahri accidentally summons an equally sly, darkly mysterious djinn warrior to her side during one of her cons, she's forced to question all she believes. For the warrior tells her an extraordinary tale: across hot, windswept sands teeming with creatures of fire, and rivers where the mythical marid sleep; past ruins of once-magnificent human metropolises, and mountains where the circling birds of prey are not what they seem, lies Daevabad, the legendary city of brass–a city to which Nahri is irrevocably bound. In Daevabad, behind gilded brass walls laced with enchantments, behind the six gates of the six djinn tribes, old resentments are simmering. A young prince dreams of rebellion. And when Nahri decides to enter this world, she learns that true power is fierce and brutal. That magic cannot shield her from the dangerous web of court politics. That even the cleverest of schemes can have deadly consequences. After all, there is a reason they say to be careful what you wish for"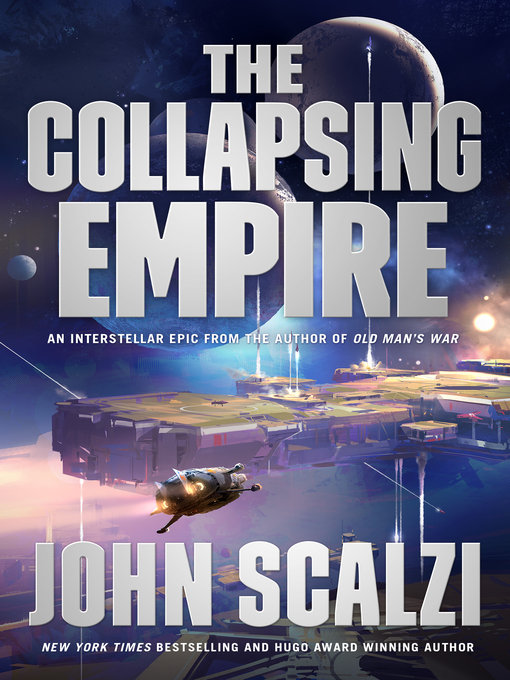 "Faster than light travel is impossible–until the discovery of The Flow, an extradimensional field available at certain points in space-time, which can take us to other planets around other stars. Riding The Flow, humanity spreads to innumerable other worlds. Earth is forgotten. A new empire arises, the Interdependency, based on the doctrine that no one human outpost can survive without the others. It's a hedge against interstellar war–and, for the empire's rulers, a system of control. But when it's discovered that the entire Flow is moving, possibly separating all human worlds from one another forever, a scientist, a starship captain, and the emperox of the Interdependency must race to find out what can be salvaged from an empire on the brink of collapse."
The Lady Astronaut Universe by Mary Robinette Kowal
First Book: The Calculating Stars
"On a cold spring night in 1952, a huge meteorite fell to earth and obliterated much of the east coast of the United States, including Washington D.C. The ensuing climate cataclysm will soon render the earth inhospitable for humanity, as the last such meteorite did for the dinosaurs. This looming threat calls for a radically accelerated effort to colonize space, and requires a much larger share of humanity to take part in the process. Elma York's experience as a WASP pilot and mathematician earns her a place in the International Aerospace Coalition's attempts to put man on the moon, as a calculator. But with so many skilled and experienced women pilots and scientists involved with the program, it doesn't take long before Elma begins to wonder why they can't go into space, too. Elma's drive to become the first Lady Astronaut is so strong that even the most dearly held conventions of society may not stand a chance against her."
The Murderbot Diaries by Martha Wells
First Book: All Systems Red
"A murderous android discovers itself in "All Systems Red", a tense science fiction adventure by Martha Wells that interrogates the roots of consciousness through Artificial intelligence. In a corporate-dominated spacefaring future, planetary missions must be approved and supplied by the Company. Exploratory teams are accompanied by Company-supplied security androids, for their own safety. But in a society where contracts are awarded to the lowest bidder, safety isn't a primary concern. On a distant planet, a team of scientists are conducting surface tests, shadowed by their Company-supplied 'droid — a self-aware SecUnit that has hacked its own governor module, and refers to itself (though never out loud) as "Murderbot." Scornful of humans, all it really wants is to be left alone long enough to figure out who it is. But when a neighboring mission goes dark, it's up to the scientists and their Murderbot to get to the truth."
October Daye by Seanan McGuire
First book: Rosemary and Rue
Booklist Review: "October Daye is half human and half Fae and a licensed PI. It was her last case for the local duke (and her liege lord) that caused her to end up as a carp in the Japanese Tea Gardens for 14 years. Alone and still recovering (it's not easy being a carp), Toby resists taking up any more PI work and avoids everything Fae. But what she can't resist is a death-fueled charm wielded by one of San Francisco's oldest faeries, which requires her to discover Countess Winterrose's killer. Toby's investigation gets off to a dramatic start as she dodges hired hit men and silver bullets, continuing at a frenetic pace as it becomes clear that the supreme powers in the local faerie world are all involved in the case. The brisk pacing, the effective mixing of human and magical characters, and the PI ambience all make this an excellent choice for fans of Butcher's Harry Dresden series. Toby is nearly as troubled and lonely as Harry, equally fond of her cats, and just as likely to sacrifice herself to save someone else. Toby's unusual heritage and her uneasy relationships with her mother's family will remind readers of Briggs' Mercy Thompson series, and Thompson fans will appreciate Toby's tough and self-reliant character. This outstanding first novel is a must for fans of genre-bending blends of crime and fantasy."
The Poppy War by R. F. Kuang
First book: The Poppy War
"When Rin aced the Keju–the Empire-wide test to find the most talented youth to study at the academies–it was a shock to everyone: to the test officials, who couldn't believe a war orphan from Rooster Province could pass without cheating; to Rin's guardians, who always thought they'd be able to marry Rin off to further their criminal enterprise; and to Rin herself, who realized she was now finally free of the servitude and despair that had made up her daily existence. That she got into Sinegard–the most elite military school in the Nikara Empire–was even more surprising. But surprises aren't always good. Being a dark-skinned peasant girl from the south is not an easy thing at Sinegard. Rin is targeted from the outset by rival classmates because of her color, poverty, and gender. Driven to desperation, she discovers she possesses a lethal, unearthly power–an aptitude for the nearly mythical art of shamanism. Exploring the depths of her gift with the help of a seemingly insane teacher and psychoactive substances, Rin learns that gods long thought dead are very much alive–and that mastering control over her powers could mean more than just surviving school. For even though the Nikara Empire is at peace, the Federation of Mugen still lurks across a narrow sea. The militarily advanced Federation occupied the Nikara Empire for decades after the First Poppy War, and only barely lost the continent in the Second. And while most of the people in the Empire would rather forget their painful history, a few are aware that a Third Poppy War is just a spark away. Rin's shamanic powers may be the only way to save her people. But as she finds out more about the god who has chosen her, the vengeful Phoenix, she fears that winning the war may cost her her humanity. And it may already be too late."
Lodestar Award for Best YA Novel
Cemetery Boys by Aiden Thomas
Booklist review: "Yadriel lives with his family and his brujx community in a cemetery in East L.A., tending to the spirits of their ancestors, but he is unhappy and frustrated. Part of a very traditional Latinx community, his father doesn't want him to take part in the quince ceremony to become a full-fledged brujo, just because he's trans! One evening, with the help of his best friend, Maritza, he calls on Lady Death to bestow her blessing on him, providing the powers necessary to release spirits into the afterlife. But just as he finishes the rites, the whole community feels the loss of one of their own: Yadriel's cousin, Miguel. When Yadriel tries to find Miguel's spirit and its tether to the world, he instead summons an infuriating, yet alluring, young man named Julian, who has died under mysterious circumstances and who won't let his tether be severed until he can check in on his chosen family. Navigating terrifyingly real obstacles, Yadriel, Maritza, and Julian chase leads to find out how Julian died–including whether or not his disappearance is linked to Miguel's. Aiden Thomas' debut novel can't help but charm and captivate readers of all ages, though teen readers will invariably identify with and appreciate the hijinks and emotional vulnerability that make each character and scenario deliciously enchanting."
A Deadly Education by Naomi Novik
"In the start of an all-new series, the bestselling author of Uprooted and Spinning Silver introduces you to a school for the magically gifted where failure means certain death–until one girl begins to unlock its many secrets. Enter a school of magic unlike any you have ever encountered: There are no teachers, no holidays, and no friendships save strategic ones. Survival is more important than any letter grade, for the school won't allow its students to leave until they graduate . . . or die. The rules are deceptively simple: Don't walk the halls alone. And beware of the monsters who lurk everywhere. El is uniquely prepared for the school's dangers. She may be without allies, but she possesses a dark power strong enough to level mountains and wipe out untold millions. It would be easy enough for El to defeat the monsters that prowl the school. The problem? Her powerful dark magic might also kill all the other students. So El is trying her hardest not to use her power . . . at least not until she has no other option. Meanwhile, her fellow student, the insufferable Orion Lake, is making heroism look like a breeze. He's saved hundreds of lives–including El's–with his flashy combat magic. But in the spring of their junior year, after Orion rescues El for the second time and makes her look like more of an outcast than she already is, she reaches an impulsive conclusion: Orion Lake must die. But El is about to learn some lessons she never could in the classroom: About the school. About Orion Lake. And about who she really is. Wry, witty, endlessly inventive, and mordantly funny–yet with a true depth at its heart–this enchanting novel reminds us that there are far more important things than mere survival"
Elatsoe by Darcie Little Badger
"Ellie Bride is an intelligent, determined, and asexual young Native woman with the ability to bring the dead back to life, as demonstrated through her stalwart companion, Kirby the poltergeist puppy. One rule remains unchanging, though: humans must never be brought back from the underworld. After Ellie's beloved cousin dies and reveals the murderer to her in dreams, she must find a way to unravel the truth behind the eerie town of Willowbee, Texas, and work with her premonitions, her family, and her fae-descended best friend to keep everyone safe from a vengeful ghost. Little Badger's stunning, haunting debut brings to the fantasy genre a fresh voice and perspective, weaving in folktales, omens, and urban legends of the protagonist's Lipan Apache culture. Illuminated by Cai's intricately beautiful chapter-opening illustrations and interspersed with Apache terminology and mythology, often presented through stories of Ellie's namesake and ancestor, Six-Great, Little Badger's fast-paced, spine-tingling mystery follows Ellie the aspiring PI (paranormal investigator) and her allies as they battle vampires, spirits, curses, and familial and personal grief to overcome an evil that threatens to end them all. Older readers raised on series like the Spiderwick Chronicles or Artemis Fowl will delight in Ellie's tongue-in-cheek, self-assured voice, as well as her adventures with the mystical and magical elements that run through her lineage."
Legendborn by Tracy Deonn
Booklist Review: "Drenched in Southern magic, Deonn's first novel puts a modern spin on Arthurian myth while exploring themes of power and heroism, and challenging expectations and racial prejudice. After her mom's death, Bree Matthews, a Black 16-year-old, flees her childhood home by enrolling in UNC-Chapel Hill's Early College program. Bree witnesses a demon attack on campus, and a teenage mage (called a Merlin) tries unsuccessfully to erase her memory. Instead, he inadvertently uncovers a buried memory that reveals a Merlin's presence at the hospital when Bree's mother died, and that the mage erased that night's events from Bree's mind. To find answers, Bree infiltrates the Legendborn, a secret society (traditionally white and racist) descended from the Knights of the Round Table that hunts demons. When she learns that a war is brewing between the Legendborn and demonkind, she must decide how deep into the society she will plunge and if the Legendborn's war is hers to fight. Legendborn is a story about how old histories inform the present, new pathways forward are forged, and traumatic pasts, like those possessed by the descendants of slavery, are systematically buried, bringing overdue reckonings when unearthed. Deonn's contemporary fantasy is a cultural gem that will connect readers with their roots in the most gut-punching, unapologetic of ways."
Raybearer by Jordan Ifueko
Booklist Review: "Ifueko's mesmerizing debut stuns as it weaves a tale of loyalty, fate, destiny, family, and revenge. Moreover, it places a dark skinned heroine front and center, who is beautiful and powerful, deadly and compassionate, and vulnerable and tough, giving YA literature more of the diverse representation teens need. Sixteen-year-old Tarisai was born to serve the wrath of The Lady (her mother), a purpose ensured by a magical wish and having a powerful ehru (djinn) for a father. When Tarisai comes of age, The Lady sends her to Aritsar to win a position on the Crown Prince's Council of 11, earn the prince's trust, and slay him. Bound by her mother's wish, she must obey the command, though she desperately wants to choose her own path. To earn liberation, Tarisai embarks on a journey through the realms of Aritsar to unearth the details of its treacherous, sordid history. Ifueko's prose is effortless and poetic from the very first sentence. She whisks readers into a lush story that instantly gives one chills with its sweeping fantasy setting, arresting landscapes, extraordinary magic, and wondrous beings. Hand this to fans of Tomi Adeyemi or Sabaa Tahir and to seekers of adventurous fantasy."
A Wizard's Guide to Defensive Baking by T. Kingfisher
"Fourteen-year-old Mona isn't like the wizards charged with defending the city. She can't control lightning or speak to water. Her familiar is a sourdough starter and her magic only works on bread. She has a comfortable life in her aunt's bakery making gingerbread men dance. But Mona's life is turned upside down when she finds a dead body on the bakery floor. An assassin is stalking the streets of Mona's city, preying on magic folk, and it appears that Mona is his next target. And in an embattled city suddenly bereft of wizards, the assassin may be the least of Mona's worries…"
.
.
.
---
Astounding Award for Best New Writer
Axioms End by Lindsay Ellis
"By the fall of 2007, one well-timed leak revealing that the U.S. government might have engaged in first contact has sent the country into turmoil, and it is all Cora Sabino can do to avoid the whole mess. The force driving this controversy is Cora's whistleblower father, and even though she hasn't spoken to him in years, his celebrity has caught the attention of the press, the Internet, the paparazzi, and the government-and redirected it to her. She neither knows nor cares whether her father's leaks are a hoax, and wants nothing to do with him-until she learns just how deeply entrenched her family is in the cover-up, and that an extraterrestrial presence has been on Earth for decades. To save her own life, she offers her services as an interpreter to a monster, and the monster accepts. Learning the extent to which both she and the public have been lied to, she sets out to gather as much information as she can, and finds that the best way for her to find the truth is not as a whistleblower, but as an intermediary. The alien presence has been completely uncommunicative until she convinces one of them that she can act as their interpreter, becoming the first and only human vessel of communication. But in becoming an interpreter, she begins to realize that she has become the voice for a being she cannot ever truly know or understand, and starts to question who she's speaking for-and what future she's setting up for all of humanity"
The Vanished Birds by Simon Jimenez
"Nia Imani is a woman out of place and outside of time. Decades of travel through the stars are condensed into mere months for her, though the years continue to march steadily onward for everyone she has ever known. Her friends and lovers have aged past her, and all she has left is work. Alone and adrift, she lives for only the next paycheck, until the day she meets a mysterious boy, fallen from the sky. A boy, broken by his past. The scarred child does not speak, his only form of communication the beautiful and haunting music he plays from an old wooden flute. Captured by his songs, and their strange, immediate connection, Nia decides to take the boy in. And over years of starlit travel, these two outsiders discover in one another the things they lacked. For him, a home, a place of love and safety. For her, an anchor to the world outside herself. For the both of them, a family. But Nia is not the only one who wants the boy. The past hungers for him, and when it catches up, it threatens to tear this makeshift family apart"
The Space Between Worlds by Micaiah Johnson
Booklist Review: "Johnson's debut explores parallel universes through the eyes of Cara, who is a traverser, a member of an exclusive team that can travel across the multiverse, but only to worlds where she has already died. Cara's former life was in the wastelands outside Wiley City, where each day was a struggle to survive. In her new life, she travels to similar worlds to retrieve information for her employer, the Eldridge Institute, which they use to mine resources across the multiverse, giving local wastelands some time to recover. When a new world opens up to Cara, her life comes crashing down as the striking similarities between her multiple lives converge. Cara must draw from her experience across the multiverse, and navigate the mess her relationships have become as she meets multiple variations of friends and enemies. As her current and former lives become hopelessly entangled, Cara makes life-altering decisions that affect her and those around her. While setting a comfortable pace, The Space between Worlds ensnares readers with the secrets from Cara's past and her innovative problem solving."
The Unspoken Name by A. K. Larkwood
Booklist Review: "One month before the day of Csorwe's death, a stranger came to the House of Silence. The stranger, a wizard, offers the Chosen Bride of the Unspoken One the chance to escape her foreordained death. Csorwe accepts, betraying her God, and runs away to a new life of adventure, assisting her cryptic benefactor in his search for an ancient reliquary that contains the secrets of the greatest magician who ever lived. To prove her worth, Csorwe learns languages, martial skills, and willingly goes wherever she is sent visiting cities both vibrantly alive and long dead all to hunt for the long-hidden treasure. But the artifact's location remains a mystery and Csorwe discovers a priestess from her former life is searching for the same relic. Has the wizard betrayed her and who is he really? And if Csorwe finds herself attracted to a foreign nation's adept priestess, will desire outweigh obligations to her master? The descriptive language and world-building in Larkwood's debut paints a vivid picture of a vibrant fantasy realm overflowing with loyalty, betrayal, murder, vengeful gods, and sacrifice."
The Ruin of Kings by Jenn Lyons
Booklist Review: "Lyons's dazzling debut is an audacious start to an ambitious five-book series. Kihrin alternates narrative duties with a demonic mimic who knows parts of Kihrin's story he is no longer aware of because of her ability to devour brains to absorb power and memories. The twisting genealogies of a complex set of royal families add mystery to Kihrin's awakening to a portentous destiny that involves training in magic and swordplay as well as intrigues in the various courts of Capital City. His adventures include encountering a diverse range of fascinating races, summoning demons, suffering magical enslavement, serenading a dragon of immense proportions, and dealing with goddesses who walk among the peoples of the Known World, making for a multilevel thrill ride. Thoroughly modern in her use of dialogue and assured in her world building, Lyons eventually dovetails the two narratives into one with one stunning revelation after another that will leave the breathless reader wanting more. With the scope and sense of fatality of Patrick Rothfuss and well-choreographed action sense of Brandon Sanderson, Lyons leaps into the big leagues of epic fantasy and sticks the landing"
Silver in the Wood by Emily Tesh
Publishers Weekly Review: "Tesh's exhilarating debut novel puts a queer spin on the Green Man myth, set in a time and place resembling Victorian England. Reclusive, taciturn Tobias Finch has spent over 400 years caring for Greenhollow Wood, with only his cat and dryads for company. Then attractive Henry Silver appears at his door, dripping wet. Tobias recognizes him as the new owner of the woods; Henry flirts with him, but Tobias avoids reciprocating. The two grow closer, however, when Tobias convalesces in the manor house after being shot by a young man . Tobias learns that Henry is an amateur folklorist collecting local legends, including stories of a wild man who roams the woods in summer and abducts handsome young men who are never seen again. As Henry learns more about these tales and the gruesome history behind them, he puts himself in grave danger that will test Tobias's loyalties. Tesh's characters and mythology are exquisitely crafted, including Henry's assertive mother, a "practical folklorist" (monster hunter) who bucks the gender conventions of the time period. This fresh, evocative short novel heralds a welcome new voice in fantasy."